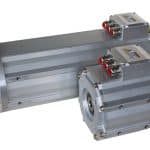 Increasing Efficiency in the Extruded Aluminum Industry
August 24, 2023
The MFP Automation Engineering team is here to support our customers. This includes teaching hydraulic classes so you or your employees can gain a working knowledge of hydraulics, troubleshoot basic issues when something goes wrong, and stay safe when working around hydraulic machinery.
Here's what you need to know about our hydraulic training courses and how to enroll.
Two Levels of Hydraulic Training
MFP offers classes twice a year, once in the spring and again in the fall. Students are from local West Michigan companies, and we average around 20 students per class. Most students come because their employer or supervisor wants them to have a basic understanding of the equipment they work with every day.
Classes go for five weeks, and we host them in the training room of our Hudsonville headquarters.
Basic Industrial Hydraulic Training
These classes are perfect for maintenance, sales, or engineering personnel. We focus on learning the where and why of industrial hydraulic machinery and understanding how these complex systems work.
Concepts covered
Hydraulic transmission of force and energy
Hydraulic fluids, actuators, and pumps
Control of hydraulic energy
Flow control valves
Filtration
Hydraulic circuitry
Advanced Industrial Hydraulic Training
This class is geared toward maintenance, sales, and engineering personnel who want to increase their understanding beyond the basics of hydraulics. We focus on a deeper understanding of hydraulic components, how they operate, and designing an efficient hydraulic system.
Concepts covered
Pump controls
Proportional valves for pressure and directional control
Circuit design
Troubleshooting
System sizing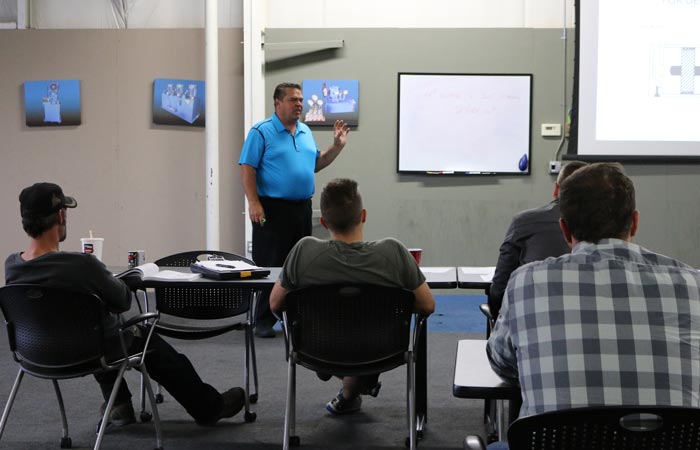 Learn Safety and Troubleshooting
As our hydraulics instructor, Mark Redmond likes to say, "Hydraulics can be its own worst enemy." If a system is well-designed, it can run reliably for a long time without needing a lot of attention. Unfortunately, that means when there's an issue, your maintenance team might not have the knowledge to troubleshoot the problem. And with the current skilled labor shortages, that equipment could be down for a while before a specialist is available to fix it.
Any large and complex piece of machinery also comes with safety risks—and hydraulic systems are no exception! A system generating extreme forces increases the risk of serious injury. This is another reason an employee with hydraulic training is a huge advantage for your team. When equipment breaks down, they can safely troubleshoot and run simple checks. Even basic knowledge of hydraulics increases the chance of getting things up and running without injuring themselves or someone else.
How To Sign Up For Hydraulics Classes at MFP
We have classes twice a year. We are also working on a way to offer online classes, so stay tuned for more news on that! You can visit the training page of our website for news about upcoming classes and more information on what's covered in the basic and advanced courses. You can also sign up to receive an email notification about future training.