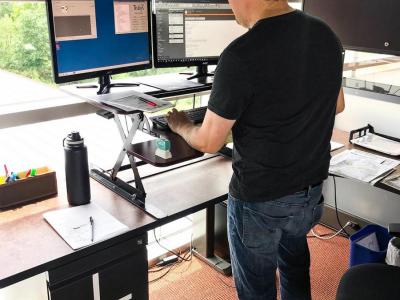 86% of those who work in America have a job that they must sit behind a desk all day. Our bet is that if you are reading this right now, you are one of those that fall within the 86%.
Everyone knows that sitting all day long has negative effects on both your mental and physical health. How many people have you heard say, "Wow, I feel so good after sitting at this desk staring at my computer screens all day". Probably not very many.
Workers who sit all day can form a cluster of health concerns including weight gain, high blood pressure & sugar, excess body fat and heart issues. Not only the physical concerns, but there are mental problems that can stem from sitting for lengthy periods. Depression, reduced well-being and stress have been known to increase for those who work in an office-setting every day. Not to mention the headaches, horrible posture, neck pain, blurred vision, carpel tunnel and the lovely 2:30 slug where all you want to do is lay your head on your desk and take a nap. As the saying goes, "Sitting is the new smoking."
It's apparent that the negative effects of the typical office job are an abundance, but inevitable. We need our office workers, we need the I.T. individuals who sit behind a computer for hours a day and the receptionists who barely have time to eat lunch before they are rushed back to sit at their desks. The question is, how can we help minimize these not-so-healthy effects?
Now, we aren't saying that the office workers over here at MFP Automation Engineering don't get these side effects, because we certainly do. We are just lucky to have a company that recognizes these bothersome occupational side effects. MFP has put in the time and effort to supply their employees with tools we can use to help better our health and attitudes in the office.
MFP has supplied standing desks for any employee who wants to stand while they do their work. They have also supplied rolling ball chairs to help with posture and maybe even do a few small exercises to keep us moving. We have also been given specific break times to step away from our desks and move around, a way to take a break from our assignments and collect a few minutes to re-group. With the option to walk the grounds and pick from the company garden, health is in abundance on-site at MFP.
Finally, MFP uses competitive incentives for employees to stay healthy. MFP supplies a wellness check once a year to get information like weight, cholesterol, BMI and many other statistics and measurements regarding your health. If an employee's BMI number is better than the year before, MFP incentives to that person as a reward for staying on track or becoming healthier in a sometimes-stagnant environment.
There are many ways that a company can help reduce the negative physical and mental effects from sitting at a desk all day. Whether it be setting up a work Fitbit challenge, growing a company garden, or hosting healthy potlucks, it is important to have these things for the well-being of your employees. Try to ask yourself "When was the last time I stood up from this desk?" Stand up or walk around for a few minutes to get your mind re-fueled and blood flowing. These and many other tools will not only create better, more alert employees, but healthier individuals as a whole.