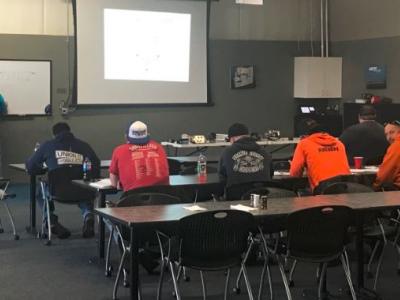 It is that time of year where MFP has the opportunity to have one of our own specialized engineers instruct a hydraulics class! Twice a year, our resident expert, Mark Redmond takes time out of his life to teach a basic and advanced level Industrial Hydraulic Training class right here at MFP in Hudsonville, MI.
The basic class covers where and why hydraulics are used in industrial machinery and how hydraulic systems and components work. In the level two class you would learn why different hydraulic circuits are used on industrial machines and get a further understanding of hydraulic components and how they operate. Both classes are great for beginners, experts, and anyone with an interest in the field, as there are many Q&A opportunities, as well as great hands on experience.
During our most recent training session, we had a more intimate class size compared to previous trainings. When asking Mark if there was a benefit to a more intimate class size, he responded with, "The session was great because the students were more likely to speak up and ask questions, which led to some really insightful and great discussions." Mark also mentioned his favorite aspect of instructing: "It becomes incredibly rewarding when I witness someone grasping the information I'm instructing, and I can tell when someone really understand how something works."
Mark has stated that he's often amazed at how far some of the students travel to get to class. He finds it flattering and works even harder to ensure the training is worth every minute of their time and effort. With the five years' experience that Mark has instructing, and the 30+ plus years' experience in the field, he encourages those to attend and guarantees that each person who takes the class will come away with a better understanding of hydraulic systems.
Our next sessions will be at 5:30 PM on April 24 for level two and is four weeks long. These trainings are a great opportunity to advance in the field of hydraulics and share latest sector info and trade secrets with your company. If you are interested in this class, contact Whitney Flikkema at [email protected] or (616) 538-5700.