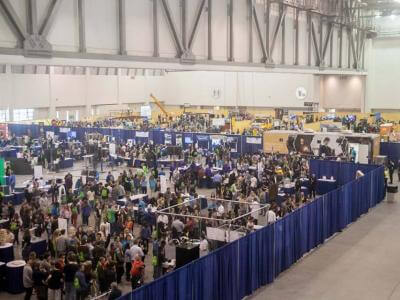 At MFP Automation Engineering, we take pride in having a plethora of unique careers that make up our organization. MFP strives to use the talents that each employee has to offer. Sometimes that means cross training and giving an employee multiple rolls at our company.
It is safe to say that over a quarter of the individuals that work at MFP never anticipated working the job they do now. These employees excitedly greet the opportunities with fervor and panache. Many did not know their job even existed during their younger years. It's not very often that a middle-schooler decides that they want to be a "Warehouse Manager," "Purchasing Agent" or an "Install Technician." For that reason, we are happy to be a part of West Michigan's Career Quest every year.
MiCareerQuest is an annual event that takes place at the DeVos Place downtown Grand Rapids, Michigan. It was created in 2015 by West Michigan Works!, Kent ISD and the Construction Workforce Development Alliance (CWDA) in response to employers' need for future talent in Construction, Health Sciences, Information Technology and Manufacturing.
Every year, over 9,000 kids from schools all around West Michigan come to the DeVos Place to see many businesses share specific careers their company provides. A plethora of these careers are unheard of by the students that walk through the exhibitor's spaces. All exhibits are highly interactive and targeted towards students 14-18 years of age, with the intent to educate individuals on opportunities they most likely have never heard of or considered.
So, what does MFP bring to the table? At MiCareerQest, we talk about three separate jobs that may not cross the mind of someone who is in Middle School. First, we talk about being an Engineer. Since Engineering is a huge part of MFP, we inform the students of the importance of our Engineering department and how they design and modernize machinery to be the most efficient for whatever the customer's needs are, no matter how complex they may be.
Secondly, we explain the job of an Install Technician. MFP's install team works hard and visits directly on-site to service and install hydraulic systems, as well as resolve any issues a company may be experiencing hydraulically, pneumatically, or in the automation concerns. We explain to the students that doing this job could involve working on large loaders, dump trucks or even draw bridges. This is a vital role because many organizations can experience unexpected and costly downtime with their systems and need someone to come service them as soon as possible. MFP's install team can respond rapidly to customers' emergencies and help them solve their system issues.
Finally, we talk to the students about our CNC Machinists. We explain what a CNC machine is and provide them with small manifolds to observe and tangibly understand. CNC Machinists are significant due to a lot of customer's requests for custom and specific pieces. We explain that CNC Machinists need expert craftsmanship to comply with our customers specifications.
The MiCareerQuest is a rewarding and fun experience. It is enjoyable to see the reactions of the students when you explain different careers they have never heard of. This type of event places careers in the kids heads and hands which may make them motivated to do well in school, have a plan for graduating and simply find a career in the future that they may really enjoy. Whether someone is looking at a role in finance, human resources, engineering, marketing, upper management, design, welding, or even electrically, MFP Automation Engineering has a vast array of experience and insight we're willing to share in hopes of educating the future professionals of the world.