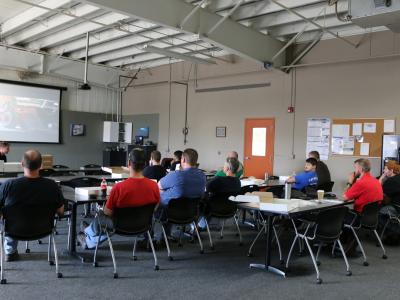 Training in the workplace is not only a great opportunity for the employees, but it is also vital. It expands the knowledge base of all employees and gives a greater understanding of how to do their job and how to perform well.
The benefits of training include improved employee performance and satisfaction, addressing weaknesses, increased productivity and innovation in new strategies, reduced employee turnover and enhances the company's reputation and profile. Trainings are important and in high demand and because of that the pricing of them can be quite expensive.
At MFP Automation Engineering, we take pride in the amount of trainings our employees take part in. We know the value of ongoing training and continued education. We are able to pay for these trainings by a grant given to us by the State of Michigan. In fact, every year we apply for the West Michigan Works! Going PRO Talent Fund. The Going PRO Talent Fund makes awards to employers to assist in training, developing and retaining current and newly hired employees. It helps to ensure Michigan's employers have the skills needed for in-demand jobs in the advancing world.
Over the past few years, West MiWorks! has granted MFP funds to pay for trainings taken by our employees. This is such a great opportunity for the employees at MFP to enhance their skills in their position and use that knowledge for the benefit of the company, and ultimately the customer.
MiWorks! gives four purposes in applying for the grant and taking these trainings. First, it helps to ensure that Michigan's employers have the talent they need to compete and grow. Secondly, these trainings expand and improve employee's skills and develop their opportunities for growth in the company. Third, they help address skill shortages by reskilling and upskilling Michigan workers based upon employer's needs. Finally, the funds support an increase in credentials, certificates and degrees through employer-responsive training that enhances talent attraction, productivity and retention.
The average award amount given by the state to businesses in 2014-2019 is $31,548! This is so beneficial to any company and a great way to increase talent and expertise throughout the business. MFP is very thankful for the opportunity to take these funds and offer them to the employees. Any employee at MFP is given the opportunity to expand their knowledge in their position, which will benefit themselves and the company overall.