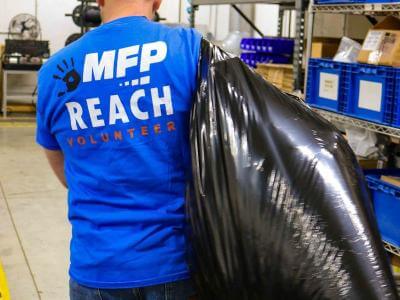 Like most companies, MFP Automation Engineering strives to stick by its mission, vision and values. Our vision and mission is to serve God, serve families and serve our customers. Our values are innovation, integrity and customer focus.
The emphasis of MFP's families focus involves not only serving in the families of the company, but also the families in the community. MFP understands that no matter the type of business, it is important to give back to our communities and extend our mission.
With that being said, MFP has launched a new program to make community involvement easier for employees. This new program is called "MFP Reach" and kicked off this past January. Each employee has access to 8 hours of paid time on an annual basis to impact and volunteer within the nonprofit communities throughout the community.
Not only is volunteer work great for the area, but it can help strengthen the collaboration of your employees. Community events bring employees together in a different atmosphere and they get to know each other better and see each other in a different light. Employees create stronger bonds at the volunteer sites which leads to better performance with each other in a work environment, ultimately fostering a sense of team and comradery often difficult to reach within the office setting.
Another employee benefit to volunteering is that it can give a nice change of scenery to individuals and get them out of the office while doing something good. Taking a break from the repetitive tasks can be good for overall satisfaction and purpose in life. It also can be a great opportunity to put the skills they have, like woodworking or creativity, to use. Often, using your skills to help others brings a different outlook on life, and in this case, your job.
Sometimes, getting out of the office and building relationships with the community can be better for your business and better for the employees. MFP Automation Engineering is excited to start MFP Reach and has confidence that every employee will benefit from the volunteer work they choose to do. If you are aware of a nonprofit organization in the area and would like to offer MFP the opportunity to volunteer at your facility, please contact Whitney Flikkema at [email protected].