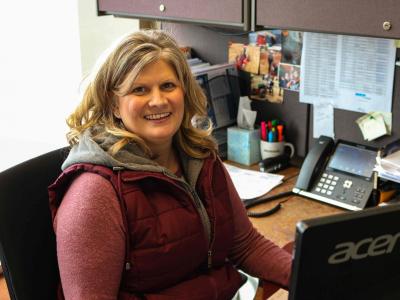 At MFP, we strive for employee recognition and a family culture. I had the privilege of chatting with an employee that has been here for over 19 years. Karla Wiersma is the Purchasing Manager for MFP and has vast knowledge on inventory management, finding the best pricing, as well as best lead times for our customers. With nearly two decades of service to MFP Automation Engineering, Karla is an extreme asset to our company, her cohort, and most importantly, each of our valued customers. Take a look at our interview with the purchasing powerhouse below!
QUESTION: How long have you been in Purchasing with MFP?
KARLA: I have been with MFP and Purchasing for 19 years.
QUESTION: Did you start MFP in Purchasing?
KARLA: I started in Purchasing. I also did Inside Sales and the Parker Store simultaneously along with Purchasing.
QUESTION: What are your favorite type of parts to buy or divisions to buy from?
KARLA: All the divisions are great, they all have their own individual perks! I enjoy them all and the excellent people I get to meet from them.
QUESTION: What is the most rewarding part of being in Purchasing?
KARLA: The relationships that I get to create with the vendors we work with, as well as the people I meet at the Parker Divisions.
QUESTION: What makes MFP great to you?
KARLA: I really enjoy my fellow co-workers and the flexibility I receive. MFP is really understanding with events that can occur in our personal and family lives. There are great perks that come along with working for such a family-focused small business, which I know we all truly appreciate.
QUESTION: What would you say is the most difficult part of your position?
KARLA: When parts don't ship on time. There is nothing that anyone can do about it and everyone is frustrated, most importantly our customers. We've worked hard to minimize these concerns and having constant communication with customers and vendors always helps.
QUESTION: What would you like to see changed or grown at MFP in the next five years?
KARLA: Since MFP is becoming ISO compliant, I would like to see ISO procedures and processes be fully implemented, and for people to be fully held accountable for each procedure. With the ISO status, we will have to be held even more responsible and no getting around the procedures which will ultimately help each of our roles, and our company as a whole!