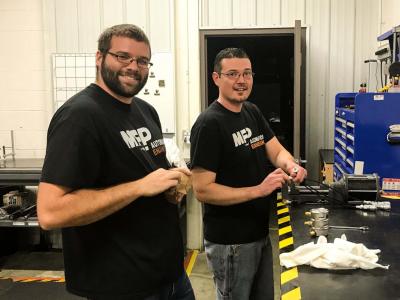 Anytime someone has thanked you, praised you, complimented you or given a gracious comment towards you, it is likely that you will remember those comments. As you are reading these words, you can probably remember a time or two that uplifting words were personally spoken to you. It feels good to hear things like that, especially when it comes from a supervisor or team leader, but recognition from a fellow department member or colleague brings even more encouragement and validation, not to mention the motivation to continue to do good work. As the old saying goes, "Not everybody takes their work home with them, but most of us take home some of the feelings or emotions that come from work."
Peer recognition is when fellow team members recognize and compliment each other for their work. This could be for a job well done for a specific task or a general compliment on their attitude and disposition in the work place.
When employees know they are valued, their satisfaction and productivity may rise, and they are motivated to maintain or improve their work. It is important for the employer to provide a platform for employees to thank each other and recognize the effort their colleagues put towards their duties. One of these platforms is a popular method throughout business and organizations and that is picking the employee of the week, month or quarter.
Every quarter at MFP, our employees anonymously vote for who they believe has stood out by working hard and striving towards our company's mission, vision and values. This gives the deserving employee a chance to be highlighted in the company. They are recognized by their colleagues and team leaders as a hard worker, dedicated to their job, and all done with a great attitude. Some employees might not even know all of the responsibilities of their colleagues and this is a great way to bring out those capabilities and provide the employee the opportunity to stand out.
Simple things like birthdays, work anniversary's and acknowledging life events can go a long way with recognizing an employee. MFP has a monthly bulletin board with the employee's birthday and work anniversary. It may sound simple, but it is a way to tell the employee that MFP recognizes their part in the company and thanks them for their dedication. Our newsletters and weekly "MFP Connect" in-house email blasts keep the staff informed on what is going on professionally around the organization but also lets us know about new babies born, whose birthday it is, and new hires we can kindly welcome to the MFP family. Because we operate as a small family business, maintaining the family feel and mentality is crucial to our team culture and success.
There are more ways to enhance the employee recognition culture in an organization. Simple personal compliments or even gratitude in team meetings or events. It is so easy for any employee to look for the bad in their colleague. Doing that will get you nowhere in the company or life in general. Write a nice note and leave it on their desk, offer help when they are busy, put a comment in an email that you appreciate their work. It is far too often that we boss each other around and take for granted the help we may receive from others. A company needs people to run it, not one, singular individual.
We are all busy and sometimes we forget to acknowledge our peers. It is easy to move from one task to another without showing appreciation or gratefulness. Next time you see your colleague, give them a compliment, write them a note, buy them coffee. A little gratitude shown can go a long way with keeping employees happy and motivated.