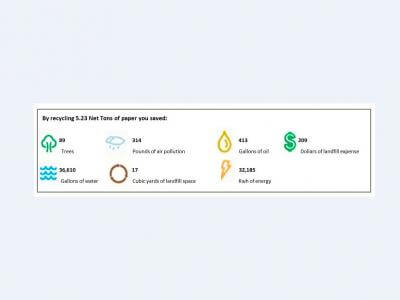 This year, MFP has taken the initiative to go green and be more environmentally friendly. The results from this last quarter have been astonishing. Just by implementing a recycling program in our warehouse for one quarter, we have been able to save 89 trees. Take a look at the image in this blog to see the results of recycling 5.23 net tons and imagine what an impact this would have if we all were a little more conscious about recycling.
While individually we can't all recycling tons of paper, we can still myriad things around our own desks and office spaces to be environmentally friendly. A few tips are to enable your sleep or low power mode on your computer monitor when not in use, replacing desk lamp light bulbs with Energy Star qualified bulbs, making sure to unplug electronics when they're not in use, and using the off button on your power strip when you're done at the end of the day to completely disconnect all power. A few additional, very simple steps we could all enact is to bring a water bottle or coffee mug from home so you don't routinely use plastic cups, and placing a recycling bin by your desk for all discarded paper and recyclables. It doesn't take a much effort to pitch in, and the results are astronomical!
MFP is proud to have recycling bins at each employee desk to encourage all our employees to recycle. We are even able to provide customers with biodegradable hydraulic oil if need be in environmentally-sensitive areas. These are just a few of the steps MFP as a company is taking to try and create a more sustainable and environmentally friendly, conscious atmosphere. It's never too late for your company or you individually, to start recycling!