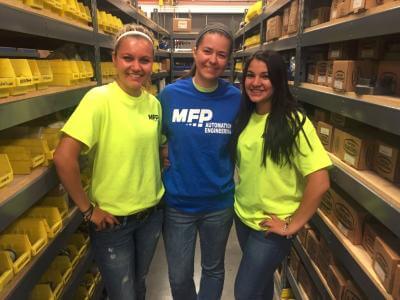 Shootin' the breeze with Bri
We love having interns around MFP. It's a breath of fresh air to see newer and fresh perspectives, and we love helping them prepare for graduation and their engineering journey. It's so rewarding to see all of the amazing things they go on to accomplish! Our current Engineering Intern, Bri, was kind enough to sit down and share a few reasons on why she enjoys working here, some advice for anyone considering the engineering field, and more!
Q: How did this internship help with school and help prepare you for life after graduation?
A: This internship fulfilled the co-op requirement for me at Grand Valley State University. We're required to work three semesters before we graduate, and I was lucky enough to find MFP! The experience I've gained in hydraulics as well as working in a professional setting is very valuable to wherever I end up after graduation.
Q: Why did you choose to intern here?
A: After walking around the building and meeting some of the engineers, I knew I would enjoy working here because of the company culture as well as this being an interesting industry to work in.
Q: How does it feel entering a traditionally male-dominated field?
A: I really enjoy working in a predominantly male-dominated field. Sometimes it can be challenging because there is still a stigma that women can't do everything guys can; I love breaking that stereotype. Proving people wrong or surprising them of my ability is my favorite part of working in a male-dominated industry.
Q: What words of advice would you have for aspiring engineers?
A: Advice I would give to aspiring engineers is to stay strong and not give up during the challenging times. School isn't meant to be easy and at times it tests your commitment, but in the end, all your hard work will pay off.
Q: What has been your favorite part about working at MFP Automation Engineering?
A: My favorite part about working here is definitely the company culture. Everyone is so nice and approachable. When I first started working here I was afraid to ask anyone a question but I feel so comfortable here now. I really appreciate how friendly and helpful everyone is at MFP.