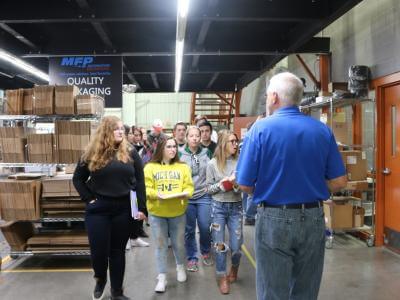 Any opportunity that MFP has to share with the community or students what exactly it is that we do, our doors are eagerly opened. Perhaps that's why we love hosting Manufacturing Day tours at MFP Automation Engineering. It gives us a chance to expose students to world of manufacturing and give them a little taste of what things look like behind the scenes of many products they may use on a daily basis. Students get to tour our entire facility from customer service to our shipping and receiving department and everything else in between. It helps give them an idea of what a career in this industry could look like. We take pride in being able to show students the different careers that manufacturing and engineering offers.
We were lucky enough to have two of our wonderful engineers take students around the facility and answer students questions. These ranged from our specialties in hydraulics, power units, and automation to questions just about business practices such as advertising and public relations. There were conversations about work flow and the differences about business to business customers versus business to consumer customers. You can tell that these tours really help students with their critical thinking skills and challenge them to think more in-depth about how different businesses operate. We are so excited to see what this next generation will bring to the manufacturing industry, and after spending a few hours with these students, we have exceptionally high hopes!
We welcome anyone to come in and take a tour of our facility at any time, if you are interested in seeing what MFP Automation Engineering is all about. Give us a call at 616.538.5700 or email us at [email protected] and we would love to set up an appointment to show you around.
#mfgday17