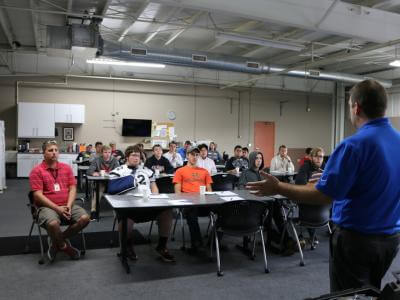 This year, MFP Automation Engineering will once again be participating in Manufacturing Day in West Michigan. Manufacturing Day is an opportunity for local manufacturers to show their communities and students in school what exactly it is that we do. This day highlights the economic importance of the industry, as well as the rewarding careers the multifaceted sector has to offer.
During this event, engineers, builders, painters, HR, sales people, and the executive team plan to tell the students about MFP and the diversity of what we do. We will also portray different unique jobs that MFP has to offer. The goal of this day is to expand knowledge about manufacturing careers and improve the way we think about them. Today, manufacturing jobs are in high demand and skilled trades can often be forgotten when students think about their future.
MFP's manufacturing jobs include careers like Install Technicians, CNC Machinists, Service Technicians, Panel and Automation Builders, Power Unit Builders, Painters, Welders, and Engineers. Every career involves daily tasks that are unique and different. These skills are so important to our industry and our business would not survive without each one.
We are excited to share our company and industry with the students and provide them with an idea for what their future could entail. We hope they learn how crucial these jobs are and how essential they can be in our industry. Vast skill and dedication is involved in these careers and we are happy to have an amazing team of employees who eagerly await the opportunity to share their experiences with the students.